Contact
Neem voor een vrijblijvend advies of voor meer informatie over onze uiteenlopende mogelijkheden contact op met het team van Pals Print & Screen.
OFFERTE AANVRAGEN:
Bel mij terug:
Vul uw gegevens in en druk op de knop.
PALS Print & Screen, uw totaalleverancier voor:
Zeefdruk

Textieldruk

Transfer

Flock

Flex- en flockfolies
Borduren

Doming

Digitaal

Sign

Occasions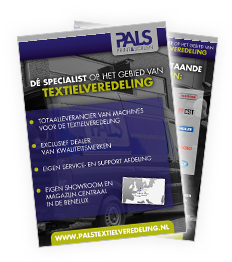 Bent u op zoek naar een bepaald product of een betrouwbaar advies,
breng dan ook een bezoek aan onderstaande websites.