DTG printer
Met een DTG printer print u direct afbeeldingen in full-color op kleding en textiel. Of het nu licht, gekleurd of zelfs donkergekleurd textiel is, top resultaten gegarandeerd en de mogelijkheden zijn onbeperkt. Onze DTG printer print in full-color en is naast een CMYK printkop voorzien van een witte printkop waardoor u ook op gekleurd of zelfs donkergekleurd textiel rechtstreeks kunt printen. Onze DTG printer gebruikt in dat geval wit als onderlaag en daaroverheen worden de CMYK kleuren perfect en met hoge snelheid geprint.
Of u nu op een t-shirt, trui, vest of op een ander soort textiel wil printen met onze dtg printer wordt het "bedrukken" van textiel pas echt een feest. Een DTG printer is inzetbaar voor elke oplage zodat u tegen geringe kosten kleding en textiel kan printen. Met deze DTG printer print u met gemak over naden, zakken, ritsen en andere verdikkingen.
Een DTG printer van Pals Print & Screen maakt gebruik van inkten op waterbasis en zijn daardoor milieuvriendelijk. Een dtg printer is dus een verwantwoorde en duurzame oplossing voor het rechtstreeks printen op textiel !
Met de speciale software van Brother haalt u het meest optimale resultaat uit uw DTG printer. De DTG printers van Brother zijn volledig door Brother ontwikkeld, geproduceerd en voorzien van eigen printkoppen, hardware en software. Pals Print & Screen levert ook uw dtg consumables direct uit voorraad!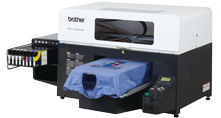 De Brother GT-3 series is de ideale machine voor kleine opdrachten welke full colour bedrukt moeten worden.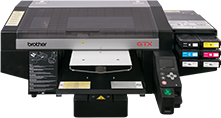 Brother DTG heeft haar volgende generatie digitale textielprinters gelanceerd met de GTX printer.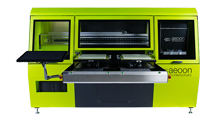 Gloednieuw in het machineprogramma van Aeoon Technologies zijn de Aeoon Kyo Compact Series textielprinters.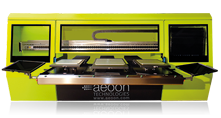 Aeoon Kyo series Helemaal nieuw in ons machineprogramma is Aeoon.