Service
Bij Pals Print & Screen staat service hoog in het vaandel. Doordat wij als familiebedrijf opereren vanuit het in de Benelux centraal gelegen Goirle zijn wij met onze korte lijnen snel ter plaatse bij servicewerkzaamheden en storingen in de Benelux en ook daarbuiten.
Ons eigen service & support team beschikt over fabrieksopgeleide mensen welke zich volledig voor u inzetten tijdens de installatie en training van zowel nieuwe als gebruikte machines, maar ook bij servicewerkzaamheden, garantiewerkzaamheden en storingen. Pals Print & Screen bezit over eigen gespecialiseerde monteurs die daarnaast beschikken over een behoorlijke lading aan allround kennis van alle machines uit ons productengamma.
Ook op het gebied van keuringsrapporten of uitgebreid omschreven installatieprotocollen van de machines die wij leveren kunt u bij ons terecht, indien u deze bijvoorbeeld nodig heeft voor uw verzekering of andere instanties.
Onze medewerkers worden regelmatig opgeleid en bijgeschoold, waardoor zij volledig op de hoogte en vakbekwaam zijn met zowel de nieuwste technieken als met de machines die al sinds langere tijd bij onze klanten staan.
Om onze klanten perfect te bedienen begeleiden wij deze door het inzetten van praktijkmensen bij de opstart van nieuwe productiefaciliteiten. Met ons service & support team doen wij er dan ook alles aan om de verwachtingen van de klant te overtreffen, steeds vanuit onze Brabantse hartelijkheid.
OFFERTE AANVRAGEN:
Bel mij terug:
Vul uw gegevens in en druk op de knop.
PALS Print & Screen, uw totaalleverancier voor:
Zeefdruk

Textieldruk

Transfer

Flock

Flex- en flockfolies
Borduren

Doming

Digitaal

Sign

Occasions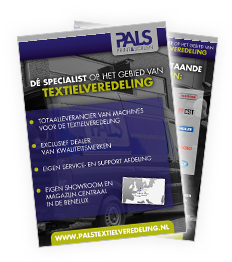 Bent u op zoek naar een bepaald product of een betrouwbaar advies,
breng dan ook een bezoek aan onderstaande websites.