Schulze PRETREATmaker IV
De Schulze PRETREATmaker IV is een automatische high-end pre-treatment machine voor professionele gebruikers dat resulteert uit consistente verfijning van eerder gebouwde pre-treatment systemen.
Als nieuwigheid is de unit uitgerust met een meerfasenmotor (stappenmotor). De machine heeft in totaal 4 nozzles die afzonderlijk kunnen worden in- of uitgeschakeld. Het maximale spuitoppervlak is 40 cm breed en 60 cm lang. De breedte kan worden geregeld door de 4 nozzles in of uit te schakelen. Daarom is de minimale spuitbreedte 12 cm – de ideale breedte voor borstprints. De lengte kan in intervallen van 2 cm worden ingesteld. Sproeien is uni- en bi-directioneel mogelijk. Hierdoor kan elke gebruiker het apparaat instellen op basis van hun behoeften.
In de machine hebben we een extra filter ingebouwd dat vuil van pomp en buizen opslaat. Deze innovatieve filter zal helpen de verstopping van de spuitmonden binnen het systeem te minimaliseren.
Een andere nieuwigheid is de nieuwe schakelklep waarmee de gebruiker twee verschillende pre-treatment vloeistoffen kan gebruiken. Een extra schakelaar wordt gebruikt voor het reinigen van de pre-treatment pomp. Daartoe biedt de machine een automatische reinigingsfunctie binnen het touchpad-menu.
De Schulze PRETREATmaker IV is verkrijgbaar met een optionele geïntegreerde weegschaal die op de machine kan worden aangesloten. Na elke cyclus zal de hoeveelheid gebruikte pre-treatment op het display worden gepresenteerd. Een handige functie om te zien of de nozzles en het systeem goed werken.
Een ander speciaal kenmerk van de PRETREATmaker IV is zijn open interface, die kan worden gebruikt om de eenheid ofwel direct via het bestelsysteem van de klant te programmeren of door een streepjescode af te drukken. Deze optionele functie vereenvoudigt en versnelt uw workflow. Met deze functie kan de PRETREATmaker IV worden bediend door ongeschoold personeel.
De Schulze PRETREATmaker IV is zonder twijfel uitgerust met onze bekende en bewezen automatische reinigingsintervalfunctie. Deze functie voorkomt dat de sproeiers verstoppen tijdens de dagelijkse werking. Spoelen van de sproeiers met reiniger of water is beperkt tot de laatste 10 cm buis vóór de sproeiers. Deze functie beperkt het verlies van pre-treatment vloeistof.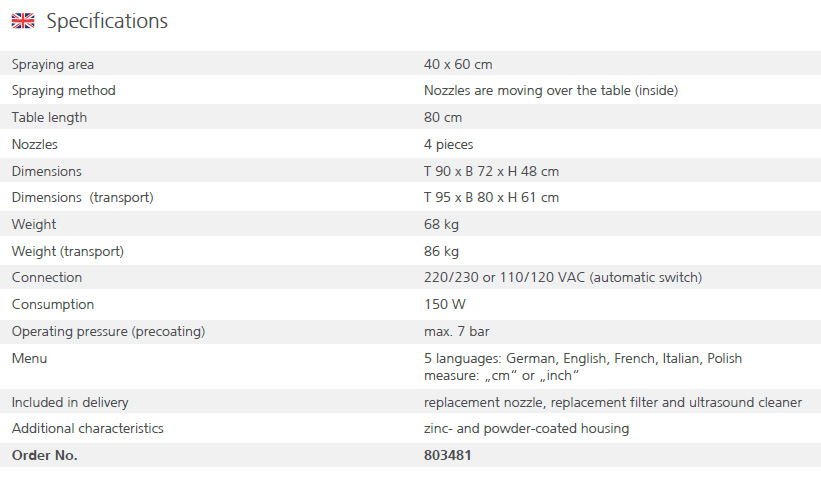 Schulze PRETREATmaker IV:
Automatische high-end pre-treatment machine

4 nozzles die afzonderlijk kunnen worden in- of uitgeschakeld

Schakelklep waarmee de gebruiker twee verschillende pre-treatment vloeistoffen kan gebruiken

Uitgerust met onze bekende en bewezen automatische reinigingsintervalfunctie